Sky Arts Portrait Artist of the Year
France apeared on Series 8 of Portrait Artist of the Year, 2021, painting TV presenter and hand-poke tatoo artist, Grace Neutral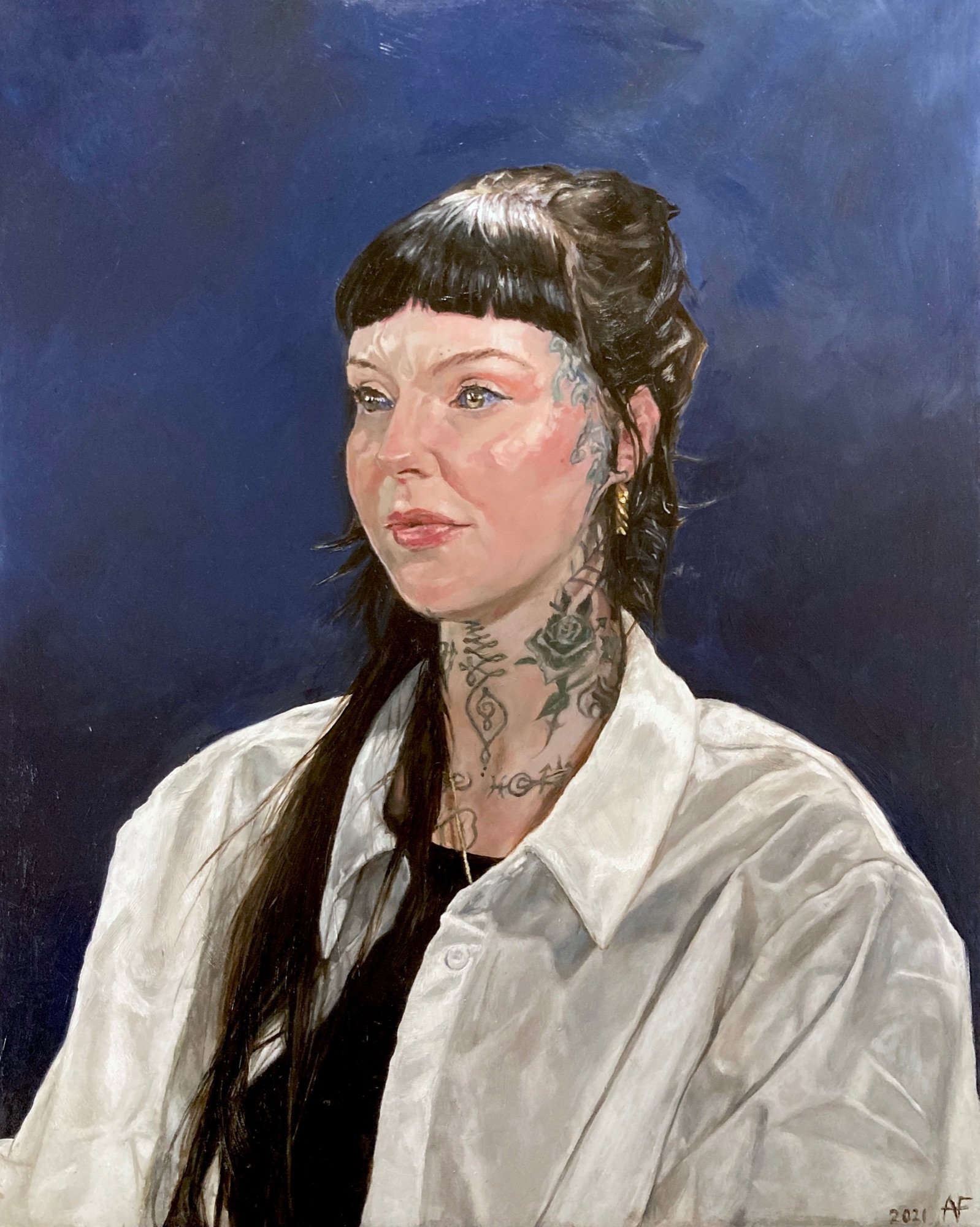 Society of Women Artists Online Exhibition 2021
Ruth Borchard Self-Portrait Prize, online exhibition, 2021
It's Liquid, Palazzo ca' Zarnadi, Venice, 2019
SUITS: Solo exhibtion, 5th Base Gallery, London, 2017
Ruth Borchard Self-Portrait Prize, Piano-Nobile, 2017
Discerning Eye Exhibition, Mall Galleries, London, 2016
Newcastle University Degree Show, Hancock Museum, Newcastle upon Tyne, 2016
Newcastle University Degree Show, Copeland Gallery, London, 2016
Ruth Borchard Self-Portrait Prize, Piano-Nobile, London, 2010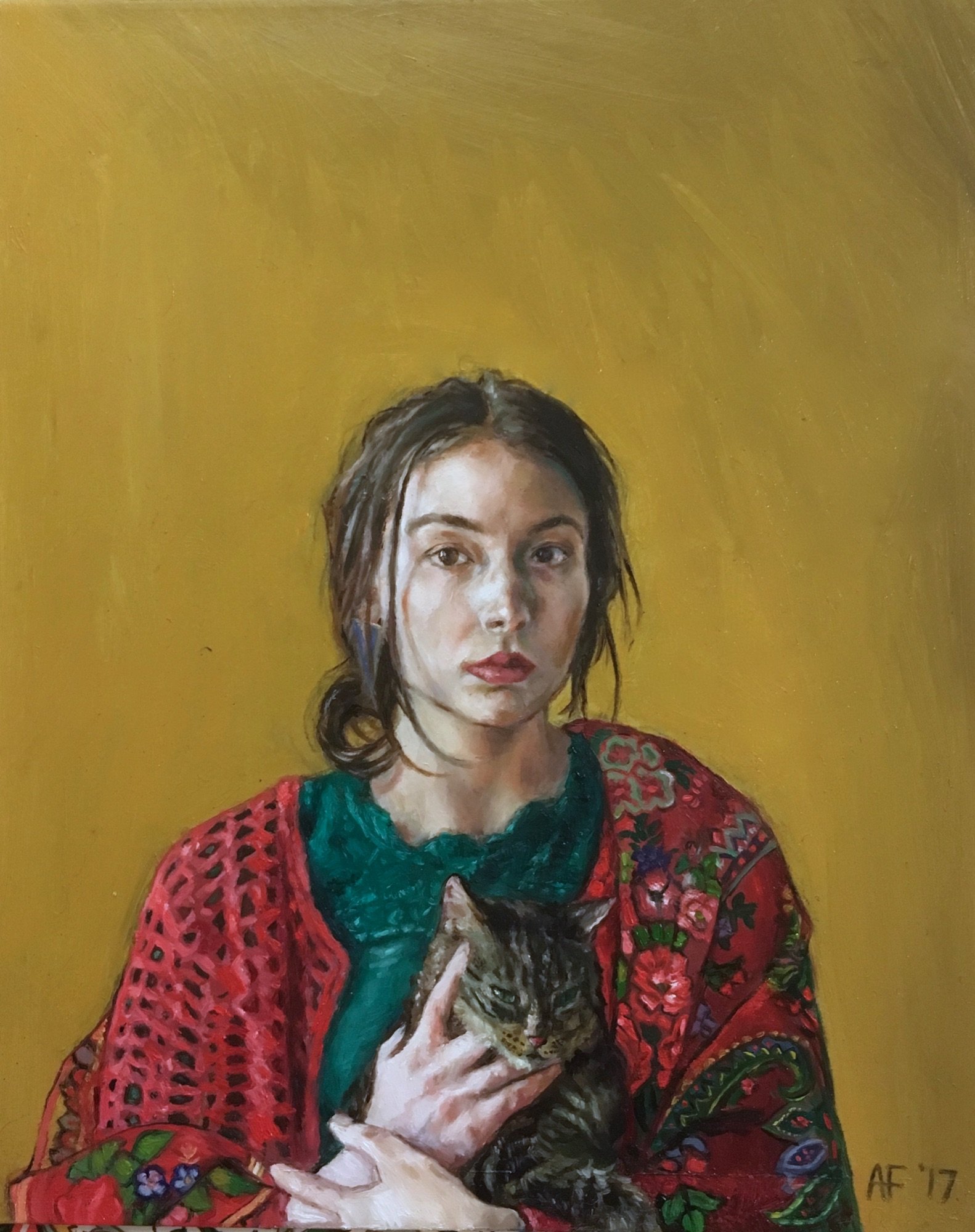 Jackson's Open Painting Prize
Nude in Caravan, Oil on aluminium
Winner of the Jackson's Open Painting Prize for the Portrait/Figure Category, 2018
Jacksons Art interview with Clare McNamara: Soft Flesh on Cold Metal.
The Jackdaw, published 2016
Portraiture has been the key subject of my practice throughout my life of which over the last four years has been specifically utilised through oil painting and the printmaking process of etching. As an artist, I have always been fascinated by the subject of people; they are nature in its most complex form and to portray them through art is my biggest passion. The intrigue of portraiture makes it so easy to find oneself lost within a mass of questions such as: Who are they? What are they doing? What are they thinking? Why has the artist chosen this particular individual to paint? These are the questions I aim to raise in my work, creating interest and curiosity about
an unfamiliar person, a perfect stranger.
Many artists have a reoccurring model and this applies to my recent series of naked portraits. For example, I have two prominent female models that I repeatedly use in my recent work who are of a full, Rubenesque figure and naturally echo the stance of classical nudes without direction. Their classically inspired posture juxtaposed with modern surroundings has become a key aspect to my work.
I describe them as naked portraits, rather than nude paintings, because I have chosen them not only for their physical appearance but for their personality which I am passionate to communicate through their bodily expressions and their surrounding environment.
During my final year studying Fine Art at Newcastle University, my interest in depicting the female form finally developed into a huge passion which I combined with my obsession to create truthful and sensitive portraits that also reflect modern domestic life. This is captured through a solitary moment in time between artist and sitter. In these instances I have known the sitter personally where they are completely comfortable and at ease in their own environment. This way, they can behave in a waythat feels natural to them, and allows me to familiarise my self with not only the physical landscape of their body but also the landscape of their mind.However as an artist I am always looking to challenge myself and be open to new ideas and methods.
As previously mentioned, my work consists of oil painting, etching as well as pencil, ink, charcoal and large scale and miniature portraits. For my paintings, I have recently worked on aluminium plate. I use this particular surface because of the way it accentuates the flesh of the body, especially when the metal is exposed.
I am quite traditional in technique, using my realist style to convey ideas within both my etchings and paintings . Utilising this method of printmaking, I produce small works around the size of a place mat, yet with a high amount of detail to bring the viewer in closer, creating a more intimate experience between the art and the viewer.
My artistic influences range from Goya and Rembrandt, the masters of the etching, to Vermeer and Titian. I hope my work engages with the observer as theirs did and still does to this day.